Schuff Steel Company recognizes the importance of staying current with trends that affect business and the industry as a whole. Since 1976, we have prided ourselves on maintaining intimate knowledge of where the steel industry is headed. This practice, along with a forward thinking and an open mindset has supported our lead in complex structural steel development.
We share these insights quarterly. Stay connected by opting into the Schuff Steel Quarterly newsletter at the bottom of this page.
Economic outlook
USA Mexico Canada Agreement (USMCA) negotiations finalized October 1st  with the Signing Ceremony to be held at the end of November; the Senate still must create legislation to enforce the agreement. USMCA replaces NAFTA.
232 Import Tariffs on Mexican and Canadian steel imports remain in place. The US Government is hoping to leverage USMCA agreement to help create and enforce steel quotas in place of tariffs.
GDP: 2.9% pace in 2018, up from 2.2% in 20171
Unemployment rate: Stayed at 3.9% in August and will likely decline1
Energy: Crude trading from $65 to $70 per barrel in December1
Housing: Existing home sales up 1.6%, new home sales up 9.8% in 20181
Platts October HR Coil is $835, which is down $27 from September2
Nucor increased prices $40 for HR, CR, Galv.2
Steel imports thru June 2018 are 16.9 million metric tons. Down from June 2017 YTD imports of 17.9 million metric tons.3
USW negotiations with Arcelor Mittal continue. USW ratified a new 4 year labor agreement with US Steel on Nov 13.4
HR lead time sits at 3-5 weeks, while CR lead time is 4-6 weeks2
Mill capacity utilization rate was 81.8% at the end of October 20185
Platts October CR Coil is $938, which is down $32 from September2
Zinc costs were $1.20lb in October2
Material pricing increases over the last quarter
HSS is flat to slightly decreased, 4th quarter prices are down in October at $60 per ton. Prices will go back up at the end of the year or within the first quarter of 2019.
Flat beams in 3rd quarter had a new price decrease announced October 23rd, at $35 per ton in response to market discounting. This will likely go back up before end of year if scrap prices go up at all.
Flat merchants experienced just a few items increased in price in the 3rd quarter.
There were early 3rd quarter decreases for plate and sheet, then they went back up at the end of 3rd quarter. They are down as of early 4th quarter. Mills formally announced an increase of $40 per ton in mid-October in an effort to keep prices strong in preparation of negotiations for 1st quarter contract pricing.
Flange beams
Cut plate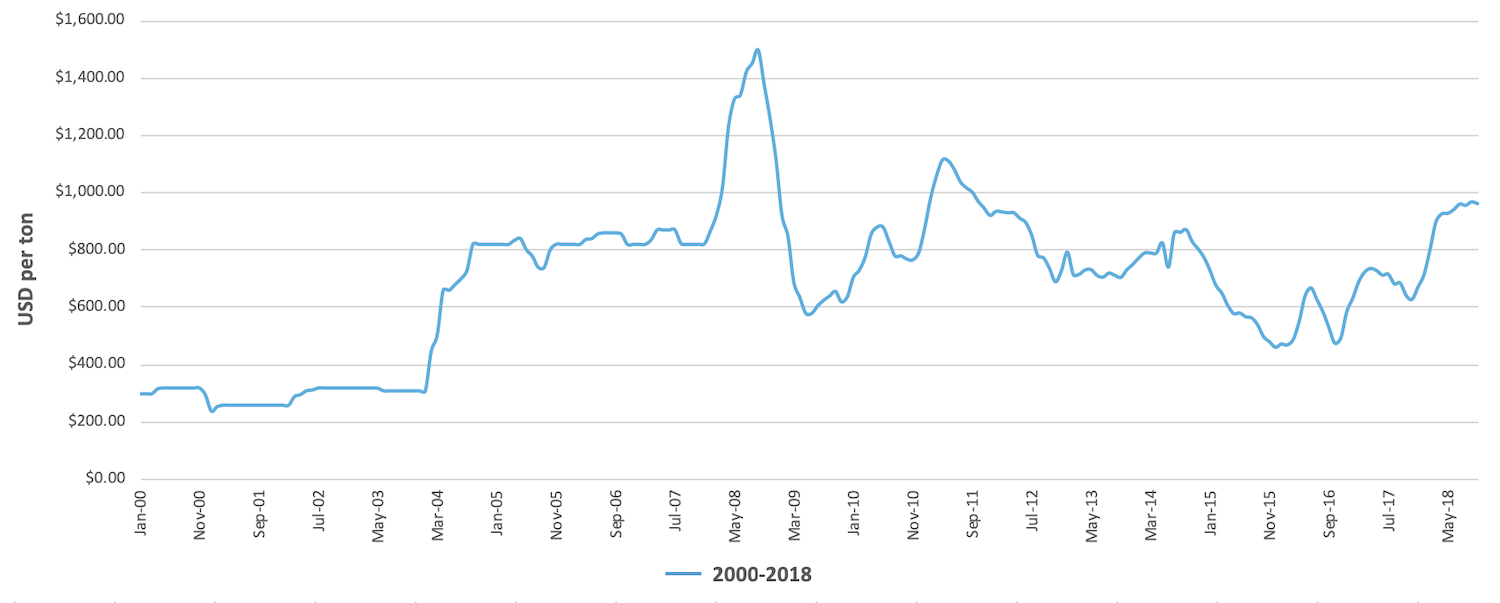 References:
Kiplinger's Economic Outlooks. (2018). Retrieved from https://www.kiplinger.com/tool/business/T019-S000-kiplinger-s-economic-outlooks/index.php
Zekelman Industries. (2018). Steel Snapshot.
International Trade Administration. (2018). Retrieved from https://www.trade.gov/
United Steelworkers. (2018). Retrieved from https://www.usw.org
AISI: American Iron and Steel Institute | Steel Industry News, Public Policy, Statistical & Production Resources. (2018). Retrieved from https://www.steel.org/