Safety is a core value at Schuff Steel. A successful day for us is not based on scheduling, rather when the men and women of Schuff Steel make it home safely to their families each and every day.
Steel erection and fabrication are inherently in the top 10 most hazardous occupations in the country. At Schuff Steel we don't take that lightly. We proudly say we are the leaders in the industry with a world class EMR. Our commitment to safety is unrivaled and our goal is total elimination of accidents from our fabrication facilities and job sites. We help write and pass legislation for both State and Federal governments, teach classes for International ironworkers, as well as evaluate the instructors that provide training.
"
Safety is a culture. It starts with me. It starts at the top. Let's face it. We are who we are because of the men and women that work for us. Our commitment, our obligation is to make sure they return home every day to their families, safe.
"
– Rustin Roach, CEO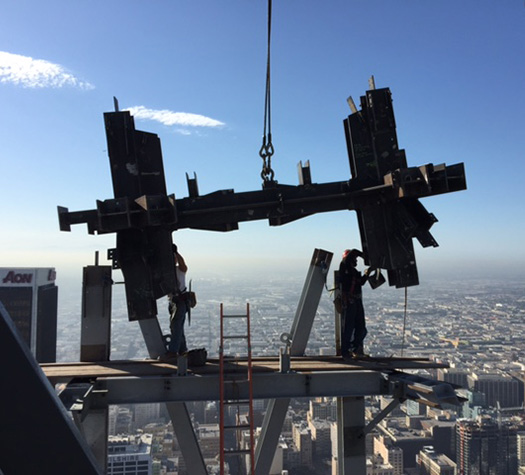 At the end of the day, RESPECT for the tradespeople is what brings world class safety to Schuff Steel.
Resources Schuff Steel provides to facilitate a world-class safety program
Engineering safety hazards away to make our worksites safer
Strategic planning and forward thinking
Passion to do the right thing, because it's the right thing to do
Educate employees and work partners to provide for a safer more productive work place
Commitment and consistency to be the leader in the industry for safety & health
Teamwork by all employees, clients and trade partners to insure we maintain our core values and beliefs.
Our safety department is committed to ensuring the safest work environments possible. Included on this team is a full-time safety manager at each fabrication facility and a full-time safety manager on every job site.
"Engineer it out and plan it right" is a common saying you'll hear in our halls. Steadfast accountability matters. When a mistake is made, it is rectified with coaching, root cause analysis and follow-up training. If a problem continues, we aren't shy about redirecting those individuals to positions they are better suited for.
The four E's of Schuff's Steel safety success
Every plant manager, superintendent, foremen and lead men receive continued safety training through Schuff University annually, in addition to ongoing improvements and updates. Every team member attends a state-of-the-art orientation program, OSHA and safety training, along with training provided by The International Ironworkers IMPACT program. Additional specific training is given in the following areas:
Fall protection
Hazard communication
Emergency response procedures
Fire protection and prevention
Procedures for reporting accidents and incidents
Pre-task planning
Subpart R steel erection
Substance abuse policy
Proper use of hand tools
Zero-tolerance policy
PPE requirements
Engineered Safety Systems (floats, angel wings, horizontal life lines)
Heat illness
Leadership and communication
The Schuff Shield
"Our logo is representative of a shield. A shield that provides the resources, forward thinking and visionary direction for our men and women to do the right thing, each and every day. Because it's the right thing to do. We at Schuff Steel have a moral and ethical obligation to every single employee to ensure they all return home safe to their families every day. This is accomplished by planning our work and executing our plans."
– Tony Hannan, VP Safety, Health & Environmental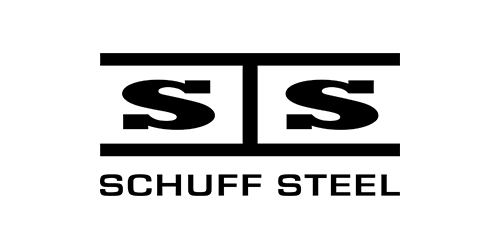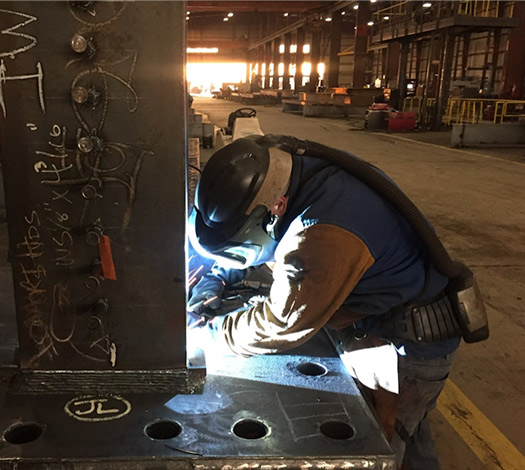 See something. Say something.
Our team spends 85% of each day with boots in the dirt – coaching, mentoring and teaching to continually become better and stronger each and every day. We care about wellness as much as physical safety. In all facets of our operations, we have mandated that all production welders wear respirators. In an effort to protect the long term health and wellness in our fabrication facilities, we have outfitted our welders with PAPR (Powered Air Purifying Respirator) respirators to keep them cool and maximize their protection level, along with increasing the comfort of the work environment. Safeguarding our team members is simply the right thing to do. We approach safety with proper planning, good organization, and most importantly extensive training so our employees feel confident in the safety of their work environment.
This committed focus has enabled Schuff Steel to have one of the lowest EMR's in the industry, which translates into cost savings for our customers. It also demonstrates that with less down time on site due to accidents and safety related issues, we not only keep everyone safe, but also stay on point with delivering our projects on schedule.
Learn more about safety by downloading our case study about The Crystals at CityCenter. With dramatic architectural detail including its spiralling roof, the project presented a number of safety challenges. Managing fall protection from steep angles required ingenuity and training make the right team essential to the project's success and safety.