Precise scheduling that optimizes budgets and timelines
At Schuff Steel we create transparency of the project status and schedule for our clients. Whether we're self-performing fabrication and erection, or utilizing our reliable network of quality subcontractors, our system keeps the process extremely efficient.
Through our proprietary tracking system, SIMS (Schuff Integrated Management System), we are able to barcode, track and manage every piece of steel from detailing, procurement, fabrication, transportation and erection. Using SIMS within our project management teams creates precise scheduling freeing up valuable time because it eliminates company-wide calls to Schuff Steel's fabrication plants on the status of each project's order. We have complete visibility as to whether the steel is in our own fabrication plant or at a sub-fabricator, enabling us to offer our clients unparalleled insight into the status of their projects. Throughout the construction phase, we import the data from SIMS into a 3D model that illustrates the progress from detailing to erection. It shows the project's progress and potential challenges caused by outside factors through enhanced monitoring, scheduling, and by prioritizing construction methods.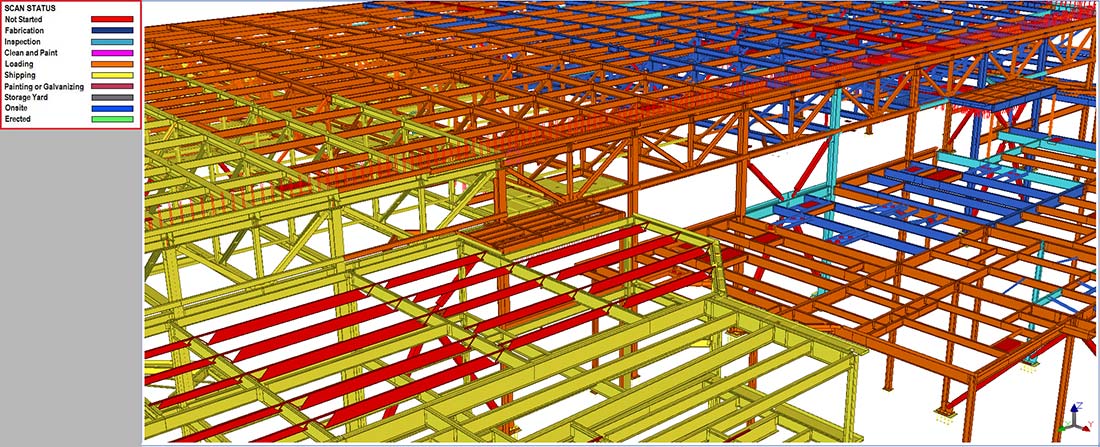 "BIM is an essential tool in managing our projects, allowing us to track pertinent information on any particular piece of steel, including the status of fabrication, delivery, and erection. A Schuff Steel portfolio project, The Palazzo Las Vegas Resort Hotel Casino, required approximately 70,000 tons of structural steel to be fabricated and erected in an extremely tight timeframe. BIM allowed us to track and manage our steel across 24 various fabrication shops, delivering real-time reporting of progress via the 3D model. This visibility was the key to achieving our client's demanding schedule."
– Robb Waldrep, President

Using SIMS can also help to provide us with flexibility and agility to adjust to the inevitable design and schedule changes that occur during large complex projects. With the help of a visual, general contractors and others involved on a project can make the best decisions of how to accommodate the costs and scheduling implications of design revisions.
Learn more about project management by downloading our case study about The Palazzo. At the time of its build, it was the largest project in Las Vegas, requiring vast amounts of material and data. In order to achieve safety and efficiency throughout the project, our team worked diligently to manage materials and work through complex design challenges.