From humble beginnings in 1976, Schuff Steel has grown to become the largest structural steel fabricator in America. With eight structural steel fabrication plants located across the country in the states of Arizona, California, Georgia, Kansas, Utah and Texas, we're able to serve clients from coast to coast.
Combined, our steel fabrication plants have over 1.334 million sq-ft under roof and over 116,000 tons of annual fabrication capacity. Each of our plants is outfitted with the latest advancements in technology allowing for efficient and defect free fabrication of the required steel components. To date, Schuff Steel has fabricated over 3,800,000 tons of steel.
Sq Ft under roof capacity
Tons of annual fabrication capacity
Tons of fabricated steel to date
We make steel management stress free
Through our proprietary tracking system, SIMS (Schuff Integrated Management System), we are able to barcode, track, and manage every piece of steel from procurement, fabrication and transportation through to erection. It gives us complete visibility within our plants and plants of subfabricators that work with us. Further, we have developed a 3D viewer to display detailed information on the fabrication status of each piece of steel so we can easily identify the impact, if any, of design changes.
We've developed a network of high-quality, reliable subfabricators and suppliers, including those that qualify as Minority Business Enterprise (MBE) and Women-Owned Business Enterprise (WBE), that we rely on when we need to expand our capacity. Each subfabricator goes through a rigorous inspection that analyzes their production capacity, process and quality, financial strength, safety and record of performance. Marrying expanded capacity with our state-of-the-art material tracking/management systems enables us to successfully perform any steel project no matter how large or complex.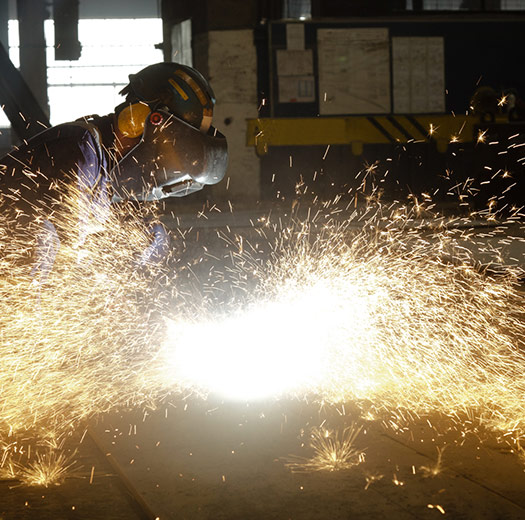 Our expectation and drive for excellence touches every step in our fabrication system ensuring complex project needs are met with thoughtful precision. In order to make this happen, our teams receive ongoing training allowing for top-level craftsmanship in the shop and safe and efficient steel erection on site.
Schuff Steel's extensive experience and proven success can be seen in industries ranging from stadiums and event centers to office high rises and more. Our steel fabrication capabilities lead the industry and provide quality our clients can trust.
Learn more about steel fabrication by downloading our case study about The University of Phoenix Stadium. The project's retractable roof allowed our team to perform the first ever "superlift" requiring the fabrication of large-scale assemblies. Our success was the result of our teams uniquely designed systems and procedures that accommodated the complex builds of the project under a tight schedule.