Why Design-Assist and Design-Build are needed
With Design-Assist, Schuff Steel provides a streamlined method of managing and problem solving the needs of unique, high-cost and complex projects.
We've seen the building industry continually evolve in complexity and fragment into niche specialties. Oftentimes industry architects and builders are left needing to manage unfamiliar products from specialty trades ending up with inefficiencies and missteps that lead to overruns and time delays. In short, it doesn't work.
Our Design-Assist process
We believe in collaboration. The design-assist project delivery methodology turns the traditional process into an innovative process rooted in early engagement and teamwork. Long gone are the days of construction teams working in isolation or creating adversarial relationships. We work in a team, ideally including the owner, architect, general contractor, structural engineer, steel fabricator, steel detailer and steel erector. An effective design-assist team operates with open communication, respect and a free exchange of information to be successful. This can help to resolve design issues in the early design phase of a project instead of in the field where the stakes of time and cost are much higher. Fewer change orders, RFI's and other issues with the plans and specifications are the desired result.
It sounds basic, but when everyone checks their egos at the door and readily shares their expertise, the process allows the team to select the best structural steel solution for the project. This level of communication also spurs innovative ideas that, in the end, control costs, saves our clients money, time and ultimately produces a superior product.
Through this phase, the primary goal is to define the project scope, schedule, and cost as early as possible with the most efficient use of resources and money. Our process helps us to identify potential issues along with the cost impact of each, including:
Site selection & requirements
Project feasibility
Equipment selection
Optimized scheduling
Value engineering options
Optimized steel design
Cost saving options
Constructability reviews
While technology continues to advance to support efficiency and more complex builds, we don't underestimate the importance of a high level of hands-on care. We ensure every stage is carefully managed with numerous internal quality control checks.
"Design-assist maximizes efficiencies, collaboration leads to a better built facility. The ability to receive feedback from all disciplines helps minimize costs and avoids gaps in the project schedule. The process allows the fabricator to order steel far enough in advance to alleviate scheduling problems and allows us to start planning fabrication and detailing early."
– Thomas Poulos, S,E, P.E., principal of Thornton Tomasetti, Inc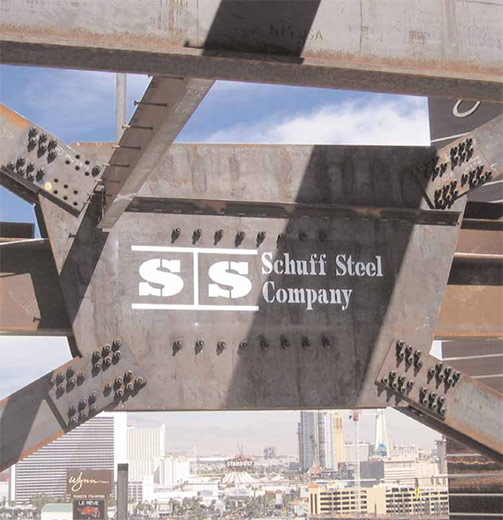 We partner with Engineering firms that know and understand our streamlined processes in delivering a design-build project. When starting at square-one we have complete control over design optimization and integrating that design into preconstruction budgeting. This means eliminating RFI's and minimizing design changes that negatively impacts the cost while allowing for earlier coordination of the other trades.
At the end of the day, when Schuff Steel manages the project through a Design-Build we can dramatically improve the scheduling through expedited approval of both the design and steel detailing steps.
Benefits of Design-Assist / Design-Build
With Schuff Steel's size and reputation, we have been able to attract top engineering talent, building an in-house engineering department that is the industry leader in Design-Assist / Design-Build. Our team of structural and mechanical engineers are some of the best and most experienced in the industry.
Leveraging this expertise enables Schuff Steel to provide our customers with tremendous value in optimizing the structural steel design. Being a part of the presconstruction team translates into a number of significant benefits for our clients. It helps us determine viability and constructability of the project while identifying areas for value engineering. This leads to less unexpected costs and changes making the procurement and construction schedule more efficient.
Engaging our Design Assist team early in the planning/design of a project has saved customers up to 10% cost in the structural steel scope of their projects and consistently reduces the project timeline by up to 12 weeks.