The industry's leading steel erector
Schuff Steel is one of the largest and most experienced structural steel fabricator and erector in North America, consistently ranked by Engineering News-Record (ENR) magazine as the #1 Steel Erector in the U.S. Schuff Steel approaches each project with a "builder" mindset, planning the project with the construction of the building in mind, working backwards through erection, fabrication, project management and design. Schuff Steel operates fabrication plants across the U.S. with over 1.334 million sq-ft under roof and over 116,000 tons of annual fabrication capacity, and manages a vast network of quality subfabricators to support the needs of very large projects.
"Our continual pioneering spirit in technology. Pressing the boundaries. Challenging the status quo. That's what keeps Schuff Steel the leader in the Industry."
– Rustin Roach, CEO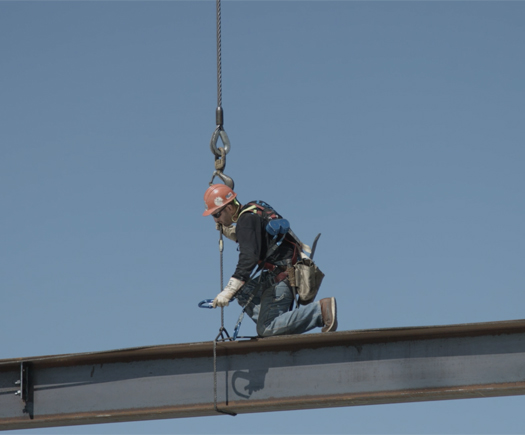 People are the key to Schuff Steel's success. Originally a family owned and operated company, Schuff Steel has evolved into a brand whose growth is driven by a select team of industry leaders. Together with this group are teams of planners and builders that bring life to each of Schuff Steel's projects. These projects give us the opportunity to invite community involvement by employing a diverse group of vendors and subcontractors, including those that qualify as Minority Business Enterprise (MBE) and Women-Owned Business Enterprise (WBE). From the site, to the shop, to the boardroom, Schuff Steel actively seeks out and hires the most qualified people and partners, in both expertise and character, for the specific needs of our clients.
With the influence of its family roots, Schuff Steel has maintained this culture with its employees, partners and customers with family-like principles such as honest communication, teamwork and support. Our intention is to build lasting relationships within the company and with our customers.
Lean construction isn't just our mindset, it's part of our DNA. Every thought and decision within Schuff is instinctively done from a lean perspective. Dating back to Schuff's early years, our commitment to waste elimination through a project life cycle, led us to the early adoption of BIM (Building Information Modeling) as well as development of our own proprietary steel management software, SIMS (Schuff Integrated Management System). In an effort to do everything possible to exceed our clients' expectations, we've integrated lean construction into the Schuff Steel project delivery method.
Our process includes:
Establishing milestones when items need to be finalized
Committing and providing regular updates to the Project Team
Allowing visibility of impacts immediately
Incorporating plus/minus values after collaboration sessions to elevate the effectiveness of future sessions
Pulling from over 45 years of experience, hundreds of projects and our highly skilled team, we approach each day with a lean thinking mindset of how we can continually evolve our processes to further increase value for our clients. Our process is transparent and brings potential challenges to the surface, allowing time to find a solution. This stabilization increases the efficiency of the project while having a positive impact on quality and cost.
The stability of Schuff Steel
With Schuff Steel's building expertise and nationwide footprint of fabrication shops and subfabricators, we are able to perform the largest, most complex projects from coast-to-coast. Schuff Steel has demonstrated time and again our ability to execute projects with the highest levels of quality and performance, while bringing significant value-add to our customers through enhancing designs, mitigating risk and saving time, all which translates into savings on the budget.
Since 1976 with solid growth and success behind us, Schuff Steel is a secure choice on any size project. Schuff Steel's financial strength and industry leading bonding capacity ensures the ability to complete projects of all sizes.
"Schuff has been an absolute pleasure to work with."

"I'd never hesitate to recommend Schuff for any BMC project, and it goes without saying that Schuff will be who I'll want on any of my projects. You guys are all studs and I appreciate the team that was put together for the Lucid project."

Chad Lenzi
Sr. Construction Manager
"Schuff Steel was committed to safety 100%, no exception."

"Schuff Steel was committed to safety 100%, no exception. They were proactive on every single aspect of the project. Assisted with identifying conflicts, proposed more effective methods and ultimately collaborated reaching solutions with the Design Team, Subcontractors and DPR. The commitment to the Master Schedule was key for completing this project on time. Schuff always had material on-site to support the schedule and complete scope per the schedule. In addition the field Superintendent interaction with DPR's Field Supervision was superb and led to schedule improvements."

Camilo Garcia
Project Manager
Schuff Steel Testament of Critical Guidance at Google Bay View Campus

"Early commitment of Whiting-Turner's key trade partners ultimately contributed to the successful achievement of the Google Bay View Campus (GBV). Schuff Steel's vital expertise in logistics and erection for the GBV campus proves their capability and duty to professionally collaborate as a team. Their dedicated effort to work in partnership with Whiting-Turner, Thornton Tomasetti (Design Team), and their Erection Engineering and Heavy Lift partners (TT and Bigge), aided in the execution of an iconic structure for our shared client. The project team spent two years designing and planning the implementation of three separate long-span canopy roof lifts and Schuff Steel's hard work and commitment was paramount to complete this process safely and successfully.

We are fortunate to have had Schuff Steel as a trade partner for the GBV Campus and look forward to future pursuits with them."

Jake LaMontagne
Vice President, Whiting-Turner
"Ahead of schedule, under budget and injury free."

"We would like to take this opportunity to recognize the Schuff Steel Team and their excellent performance on the Sacramento County Airport. It was a pleasure to work with a professional and proactive team at all levels within the Schuff organization.

The attention to detail, schedule and safety from Schuff staff helped bring in the new Concourse structure ahead of schedule, under budget and injury free."

Gary Rolls
Sr. Project Manager
"Proven to be a professional and collaborative partner."

"Schuff Steel Company has consistently proven to be a professional and collaborative partner on many projects, and the Camp Pendleton Hospital project was no exception. On this Design-Build project, the Schuff Design-Assist Team, working with KPFF Consulting Engineers was proactive in identifying potential conflicts, providing effective design solutions, and collaborating with the Design Team and other Subcontractors to reach solutions that saved time, reduced cost, and ensured the schedule was achieved. We look forward to working with the Schuff team on future projects."

Michael Tuohy
Vice President Operations
"Schuff is truly best in class."

"I want to thank the entire Schuff Steel organization for their dedication, commitment to quality, and incredible hard work over the past few years. In large part Schuff was the heartbeat of the Wilshire Grand project as we reached for the sky. The steel detailing, fabrication and erection process has been executed in a flawless manner. While the public marvels at today's event, they don't fully understand, or appreciate what went on 'behind the scene' allowing the spire to be set in place. It has been a distinct privilege to work with you, and the Schuff team. Schuff is truly best in class, and sets the benchmark for excellence."

Kenneth Aspis
Martin Project Management
"Successful in spite of demanding constraints."

"Schuff Steel designed, fabricated and erected photovoltaic support structures for several Kaiser projects. They accomplished these projects successfully in spite of demanding constraints. All sites were active. Schuff had to deliver and erect steel in challenging locations so as not to disrupt the activities of the hospital functions, staff and general public. We found Schuff Steel personnel to be professional and efficient in their management and erection of the project. We look forward to working with Schuff Steel in the future."

Bryce Schlosser
Project Manager
"Reached a completion date over one month ahead of schedule."

"Schuff Steel became involved in the early stages of our project and played a vital role in preconstruction coordination and planning. As a result of their early involvement and foresight regarding the specific conditions of the project, they were able to meet the demands of an extremely aggressive project schedule. Schuff Steel was continually able to adapt to constant design change and provide a quality product on extremely short notice without delaying the schedule. Their professionalism and dedication helped us reach a completion date over one month ahead of schedule. Their ability to excel on a project that presented continual design and schedule challenges demonstrates that they are one of the premier steel fabricators in the county."

Brock T. Eubanks
Lead Project Manager
"Schuff's dedication and professionalism was truly exceptional."

"Thank you for your outstanding performance on the National Nuclear Security Administration Campus project. The dedication and professionalism of Schuff's management team was truly exceptional. Your team's overall coordination with other trades and quality workmanship were vital to the success of this project. We would like to thank you for assisting JE Dunn Construction in exceeding our clients expectations and look forward to future projects with you and your first rate team."

Thomas J. Heger
Vice President
"The Schuff Steel management team has gone above and beyond."

"The Schuff Steel management team has gone above and beyond to help coordinate the design, root out problems early, and be flexible with changes. You have all been team players who have helped drive our safety & quality culture each and every day. We really appreciate all of your team's hard work on the project and look forward to a successful completion."

Jonathan Tribo & Paul Duke
Holder | FCI | A Joint Venture
"A fantastic job!"

"We want to thank all of you for the work you did out here at DEN. It was great working with you guys and overall a fantastic job getting us a structure to build off of. Hope you all do great on your next jobs and can appreciate your work done here if you ever fly back through the terminal in the future. Best of luck to all of you. Again, thank you for all of the hard work and effort."

Clark Fortner
Superintendent – DEN Concourse Expansion Program
"Advancing the construction industry."

"Over the past 20 years, Schuff Steel has been the structural steel contractor for over 20 California OSHPD hospital projects utilizing SidePlate special moment frames, and they have delivered a quality work product in a timely manner on each. We had open lines of communication and found them to be a strong partner working in the best interest of the projects. I have visited one of their fabrication shops which gave me confidence in their processes and quality control. Their dedication to the project teams, sophisticated estimating practices, and ability to incorporate our technology has given us a very high level of confidence in their capabilities. Schuff Steel has been a catalyst in advancing the construction industry through our technology."

Kyle Wilson
Regional Engineer, SidePlate Systems, Inc.
"Invaluable expertise at the early design assist phase."

"Turner-Hunt Joint Venture's (THJV) successful completion of SoFi Stadium starts with early commitment of their key trade contractors. Schuff Steel's invaluable expertise at the early 'design assist' phase of SoFi Stadium was no exception. Their professionalism and commitment to effectively collaborate with the THJV, HKS-WPM (Design Team) and Degenkolb Engineering (Schuff's erection engineer) kept the project in-check as it relates to cost, schedule and constructability. Construction of one-of-a- kind roof structure, like SoFi Stadium, tested their 'quintessential' innovation techniques… Schuff Steel and Degenkolb Engineers brought these skillsets to THJV."

Dan Schmitt, SE, PE; Edgar Pozo, PE & Craig Bojda, Project Executive
AECOM-Hunt

Allen W Chow, SE, PE & Michael Marchesano, VP of Field Operations
Turner Construction
"Commitment to our projects and our community service."

"We always appreciate Schuff's commitment to our projects and our community service. Really appreciate your support."

Jason Rich, President
Snyder Langston
"A valued partner and always a resource."

"Schuff Steel and Atlas Tube have a long-standing relationship that ranges from simply supplying steel hollow structural sections (HSS) for their projects to partnering on the development of new technologies and methods related to steel construction. Schuff Steel has been our most active and engaged structural fabricator account in the western USA for at least the last 11 years. A valued partner and always a resource to bounce ideas off of."

Don Tamm
Western Region Territory Manager
"Schuff Steel is a key partner in R&D for Shuriken."

"During the development of the new Shuriken structural nut keeper by Atlas Tube, the Schuff Steel team has been instrumental in getting the necessary data to make sure the product meets the standards and expectations of the design and construction community. Schuff Steel is a key partner in R&D for Shuriken. Their attention to detail and proactive communication have been instrumental to getting new products released on time and under budget."

Ted Goldstein
Shuriken Inventor, Business Development Engineer