The cost of construction has been on the rise, and every expectation is that it will continue to do so in coming years.
Looking back to the year 2000 when considering aspects of a structural steel scope of work, the cost of wide flange shapes has more than doubled. Similarly, shop and field labor rates have increased dramatically over that same time period.  Other trades in the construction industry are experiencing similar increases as well.
This naturally leads developers, general contractors, specialty trade subcontractors, and others to continuously scrutinize and evaluate how construction projects are delivered in order to combat continuous rising costs while providing optimal value to the project.
Traditional methods aren't the way of the future
The most traditional construction delivery method is Design-Bid-Build, where the Architect and Engineer of Record are typically retained by the owner separately from the General Contractor and the rest of the construction team.  Usually, the design team will complete their design prior to the procurement of specialty subcontractors, and often even before a General Contractor is brought on board.  The reality is the schedule is often very drawn out and group collaboration is limited, if not missing entirely.
While this approach has worked historically and can still yield positive results at times, it does not necessarily fit well with the goal of reducing construction costs and increasing overall value.
This is where the Design-Assist approach comes in…
Design-Assist is a construction delivery method where specific specialty subcontractors are brought onto a project team prior to the completion of the design documents, which can greatly enhance the level of collaboration between all parties as well as reduce overall project schedule by weeks or even months. While the magnitude of benefits is usually more significant on very large and/or complex projects, Design-Assist can be an appropriate construction delivery method for almost any size or type of work.
In addition to the potentially significant cost and schedule benefits of Design-Assist, positive relationships can be established early on between all parties which will pay dividends throughout the life of the project as issues inevitably arise.
Early and often engagement
For most projects, early and often engagement of the specialty trades is key. Specific to the structural steel scope of work, it is recommended that the fabricator and erector get involved as early as the conceptual phase of design.
See Figure 1 for a representative Design-Assist cost benefit curve.  As can be surmised, while Design-Assist can still bring considerable value to a project during design development and construction document production, the rate of return will not be the same, since many of the major programming items such as column locations, lateral frame selection, etc. will already be established.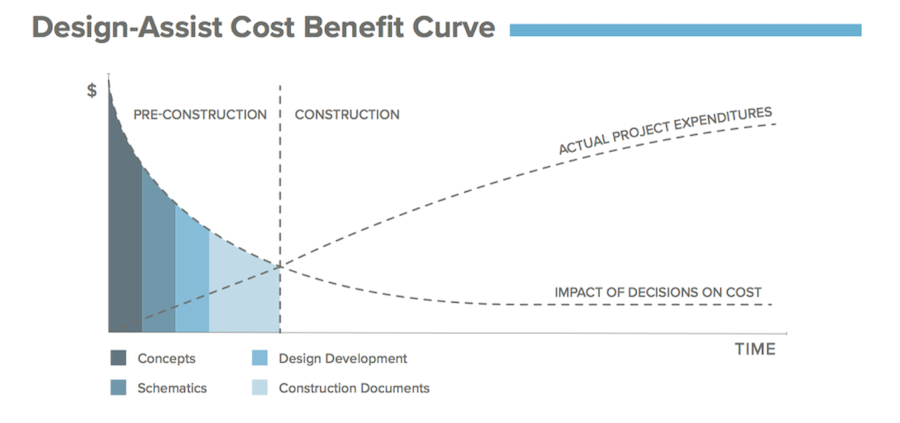 Figure 1: Design-Assist Cost Benefit Curve
It is also important to bring on other specialty subcontractors to the Design-Assist team as early as possible.  For trades that impact the structural design, such as vertical transportation, MEP and exterior skin, early engagement will help complete the design before steel procurement and shop drawing production.  This will help reduce change orders and eliminate any gaps in scope.
Early engagement in Design-Assist will also optimize Target Value Budgeting (TVB) efforts.  The specialty trades will have direct involvement in establishing an initial TVB, and continuous estimating efforts can be provided to track impacts of proposed or actual changes in real time.  Additionally, full pricing updates at milestones can be implemented to track progress against the initial TVB.
Typically, Design-Assist will function optimally when there are bi-weekly or monthly group meetings in person, with supplemental weekly call in meetings where all parties can touch base.  Further, open communication between the structural steel fabricator/erector, General Contractor, and design team will help foster the level of collaboration needed to optimize the value that can be created by this construction delivery method.
Design-Assist improves project schedule
One of the most significant benefits of Design-Assist is found in the overall project schedule. There is an increased speed to market because the Design-Assist subcontractor can begin early activities, such as material and equipment ordering.  Specific to the structural steel scope, it is not uncommon to focus early design efforts on a "Mill Order Drawing Set" in order to secure material pricing and a schedule commitment from the rolling mills.  Reference Figure 2 for an example of how the schedule to begin steel fabrication may compare between Design-Bid-Build and Design-Assist.  As can be seen, Design-Assist may pull months off the structural steel schedule.  This will result in other trades being able to begin their scope of work earlier, which should help the overall project schedule and allow the owner to operate the building sooner.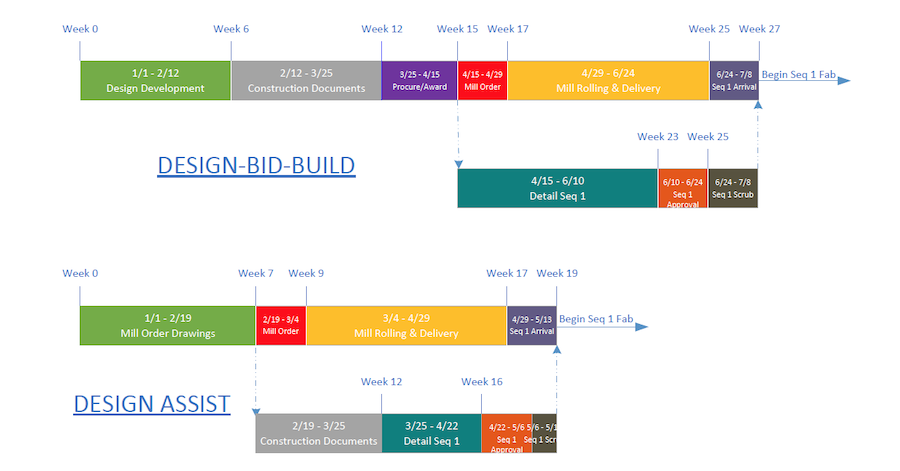 Figure 2:  Sample Schedule to Begin Fabrication (Typical Mid-Rise Office Building with No Jumbo Shapes)
Additionally, early design reviews and working sessions can help steer the design team toward solutions that will reduce time spent by trades in the field as well as minimize schedule risk.  Further, prefabrication alternatives that reduce schedule and field hours can be explored and, if selected, be incorporated in the final design of the structure.  Lastly, Design-Assist will help reduce or even eliminate the time it takes subcontractors to get up to speed on the project once the construction phase hits as they will have already been engaged for some time.
Design-Assist optimizes project value
Design-Assist can significantly reduce overall project costs. Reference Figure 3 for some examples of this from projects that Schuff Steel has recently performed Design-Assist on.
Specific to the structural steel scope, the subcontractor can provide design reviews or even their own engineering to optimize gravity framing, the lateral force resisting system, and connections.  While the final design is still to be provided by the Engineer of Record, there can be benefit to having the steel subcontractor provide the engineering on various studies as it allows the preliminary deliverables and corresponding budget impact to come from the same group.  It also allows the Engineer of Record to focus on other critical path items that the schedule requires, without being pulled in other directions to perform different studies that may or may not lead to a design change.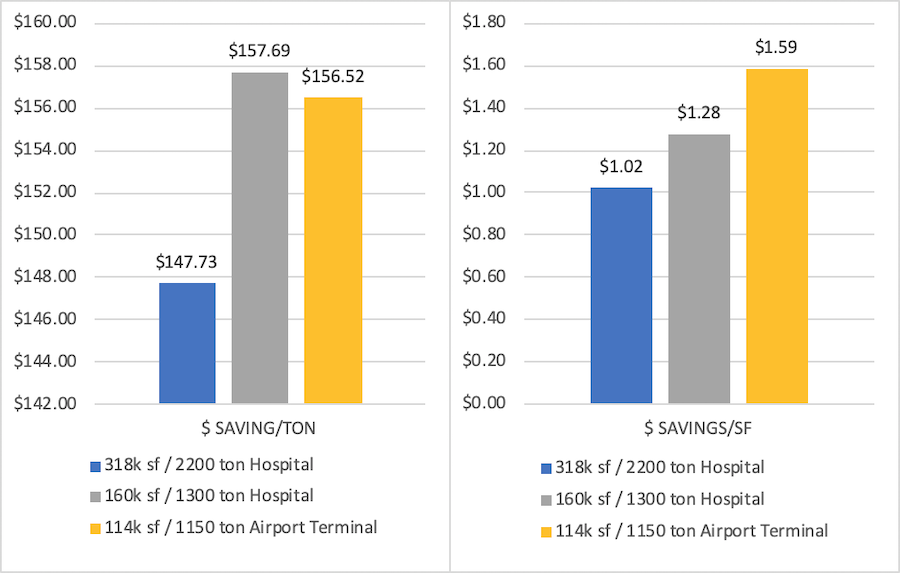 Figure 3: Design-Assist Cost Savings by Schuff Steel (per tons of steel and per project square footage)
With early detailing activities as part of the Design-Assist services, potential design issues can be identified and addressed early on and not during shop drawing production, fabrication or field activities.  In addition to the time benefit seen by flushing these issues out well in advance of shop drawing creation, early detailing activities can help eliminate high-cost change orders that are a result of unexpected shop or field impacts.
Lastly, there will be optimization of site logistics, sequencing, craneage, etc. Traditional project delivery will often see this planning done by each specific trade with only its scope in mind, while Design-Assist will allow field personnel from various trades the opportunity to collaborate early on and develop a plan that will benefit the project as a whole.
Schuff Steel sets the standard
Since 2004, Schuff Steel has been at the forefront of optimizing the Design-Assist approach. With a team of engineers, BIM modelers, and conceptual estimators, the Engineering department at Schuff Steel has a catalogue of over 1200 buildings and other structures that have been internally modeled, designed, drawn and budgeted for the purpose of bringing value to the construction industry.
Schuff Steel is committed to continue pushing the boundaries of Design-Assist and are looking forward to remaining an industry leader who sets the standard.